project
on the way home


Type of work
Creative direction, layout design,
illustration, print production
Comprised of poetry and illustrations, this self-published book was a collaborative effort between my friend and I, featuring her poetry and my illustrations to create an anthology seeking to facilitate the interaction between visual and verbal elements. 
On the way home
was born out of our passion for creativity and art. We spent months planning and visioning for what we wanted this book to be: a documentation of our personal and creative journeys. While the process was not easy and the final products were flawed, this project captured our stories as creatives and as friends.
Color palette
The choice of colors was inspired by the concept of maturation, where green represents growth and red represents both the disruption and the propelling of it. Our intention was to keep the book as simple as possible to convey the honesty in the words and the beauty in the illustrations.
Process
On the way home
features a collection of minimalistic illustrations, highlighting the poetry as the focal point and allowing readers room to interpret the images and words for themselves. Each page consists of at least one poem and a complementary illustration. 
At first, we began with an illustrative style that resembled that of children's drawings – something that you could find in Toy Story. Then, we tried exploring what it might look like to incorporate the use of outlines. We soon realized, however, that these styles of drawing were too "childish" for the rest of the book, especially as the poetry matures. The colours varied too much throughout the other spreads, and as cute as these clouds were, they appeared inconsistently compared to other images. Finally, we decided on a more complex, vector illustration style that evoked a sense of warmth, softness, and nostalgia, resembling the nature of the poetry.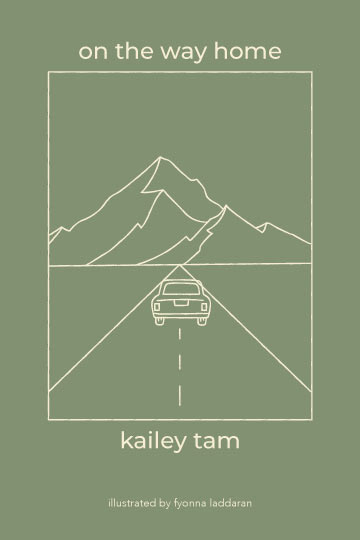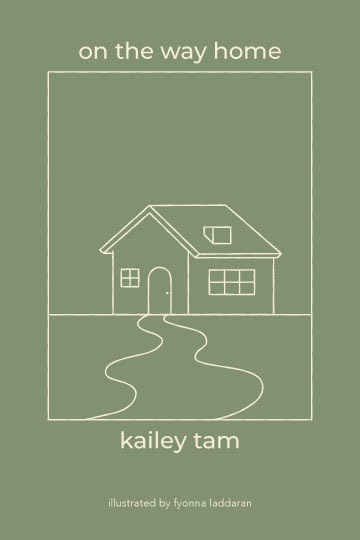 the story behind the cover
When my friend first saw the cover, the first thing she thought of was the prodigal son. There's a famous parable in the Bible, specifically in the book of Luke. Essentially, a father had two sons. The younger son abandoned his father, squandering his inheritance, before eventually returning home in humility, only to be wholly excepted and loved by his forgiving father. the father threw his younger son a party. The older son, the one who had stayed to work obediently, was furious at his father's forgiveness. He refused to join the party. The story ends without revealing whether the older son joined the party or not. 
We decided on the book title before I had created the cover, but the story of the prodigal son seems to fit perfectly. It's a story of returning home for both sons. One son left but returned. The other son, even though he was physically present, wasn't truly at home.
In the same way, the book, which is divided into four parts, imitates the author's journey through life thus far, my friend's return home.